Handheld

Confetti Cannons

Not truly a hire item, but listed here as a great alternative for those on really tight budgets, Powershot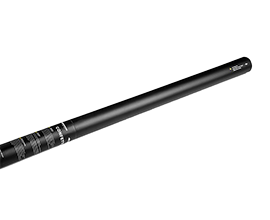 hand-held confetti cannons are identical in every way to the electric versions, except that they re fired by a twist of the base rather than via a controller. Handheld confetti cannons are normally supplied pre-filled and can be purchased with either paper or metallic confetti or streamers. We keep extensive stocks of confetti, streamers and glitter in both rectangles and shapes and can match almost any theme or colour scheme.
They are also completely disposable, so there are no return carriage charges.
CALL 0800 043 6500 for a free quote or email us here
---
PowerShot

Electric Confetti Cannon Hire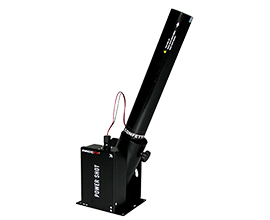 Made by top European manufacturer MAGICFX, the Powershot is a professional electric confetti cannon system designed for stage, show and event use.
Designed to fire pre-filled Powershot single use confetti or streamer cannons with a range of 12m and streamers up to 20m.
If you are in a smaller venue or where space is tight, we can supply 40cm cannons with a 5m confetti throw (or 10m with streamers).
Available in complete kits from 2 - 20 Powershot hire kits are simple to use and require no specialist knowledge to deploy. Each Power Shot hire kit comes complete with the Powershot head units, all necessary power and link leads (in lengths to suit your Event), and a two channel Effect Controller with safety key and fire button (as well as cannon safety chains and Truss clamps should you need them).
They also come complete with the Powershot cartridges in your choice of fill and colour, so there's everything that you need in the one box.
Powershot hire kits are perfect for all sorts of events, just at home in Theatres and on professional touring shows as they are on your local School Stage, they are the ideal choice.
CALL 0800 043 6500 for a free quote or email us HERE
---
Confetti Gun

Hire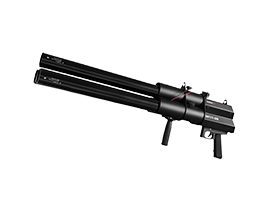 Want a new interactive way to do a confetti hit? Look no further, our Confetti Guns use both 40cm & 80cm Confetti or streamer cannons to fire 1 or 3 shots at once. Easily reloaded for multiple hits throughout an event. The gun is fully remote pre-charged with a battery meter on the gun itself. It also comes equipped with a support strap & laser guide to see where you are aiming. Great for clubs, tours or festivals these fantastic guns are a great addition taking your confetti shot to the next level.
CALL 0800 043 6500 for a free quote or email us HERE
---
Confetti
Mini Blower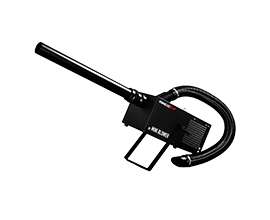 The Mini Blower is a compact confetti machine. With its specially designed inside flexible hose and special wand attachments, it can vacuum and shoot out confetti continuously, to approximately 5-7m.Perfect for events where you want a sustained confetti effect, but don't want a high consumables cost, these electric mini-blowers are a great alternative to more traditional confetti cannons or blasters.
CALL 0800 043 6500 for a free quote or email us HERE
---
magicFX DMX Stadium Blaster

Hire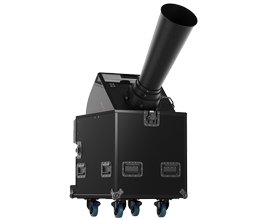 The MagicFX stadium blaster has made it easier than ever to tour with a confetti blaster. Unlike traditional Confetti Blasters this smaller unit has DMX inbuilt on board meaning you can activate multiple machines at the same time without the need for multiple operators. It can hold up to 10kg of confetti and launch it up to 20m.
As always these are large output machine they use a lot of confetti which we can supply in bulk in almost any colour or shape.
CALL 0800 043 6500 for a free quote or email us HERE
---
Confetti Blaster

Hire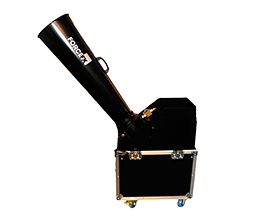 Big and impressive, these CO2 powered confetti blasters deliver vast amounts of confetti very quickly and with a spectacular noise and a cold CO2 blast.We have two sizes of confetti blasters available for hire, our smaller Super-Blasters are great for most clubs and for TV studios where you want a large effect - between 3-5 kilos of confetti per minute - but don't need to throw confetti more than 10m.
Our larger Mega-Blasters are real monsters and can throughput up to 10-15 kilos of confetti per minute with up to a 25m throw, so these are great for large dance events, Festivals or for Arena or Stadium events, but can be run at lower pressures when you don't need quite such a big effect.
Remember though that these are a manual effect and need one technician per machine to operate them, they also use a lot of confetti which we can supply in bulk in almost any colour or shape.
CALL 0800 043 6500 for a free quote or email us HERE
---
Stadium Shot

Hire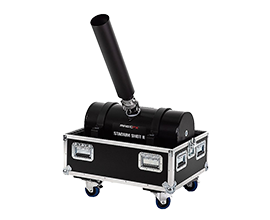 Here is where it gets really serious! Stadium Shots are designed for that trophy lifting moment and are quite simply the most powerful confetti/streamer cannons available!
As the largest confetti cannon available, the Stadium Shots give an unrivaled hit of confetti or streamers and as the name implies are designed for use in the largest of venues, Arenas and Stadiums.

We've used these from Wembley Stadium to Oxford Street for the Christmas Light switch on, in Bollywood movies and at Festivals up and down the Country, you really have to see these beasts in action to appreciate them, but to us there's no better effect for the big occasion.

Available to dry hire or with a technician.
CALL 0800 043 6500 for a free quote or email us
HERE
---
Stage Shot

Hire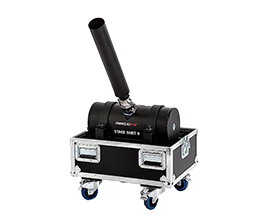 After another successful season hiring out Stadium Shots we have bought in its baby brother with the all new Stage Shots.
The Stage Shot fires confetti or streamers 15-20m and is the perfect cannon for indoor areas like clubs and event halls. The tank can be pressurized up to 8 bar
We also stock a complete range of confetti & streamers for use with the stage shots.
CALL 0800 043 6500 for a free quote or email us HERE
---
Swirl Fan Hire

for Confetti Drops

Swirl Fans quietly provide an almost silent rain of confetti that can be localised or spread to cover an entire stage or TV set.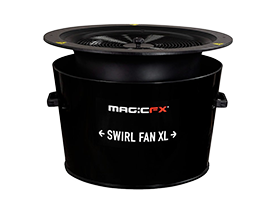 You'll see exactly this effect at the end of some of TV's most popular Saturday night shows and on stage with some of the biggest touring Artists.
Professional and efficient and just at home in a Theatre, Festival Stage or School Gym, swirl fans are great for Confetti or Glitter drops, 'dry' Rain effects and poppy or butterfly drops.
Swirl Fans are also the best 'dry' snow machine on the market and with our special 'snow' confetti can create anything from a snow flurry to a blizzard with no sticky residue.
Available for dry hire or with a technician, Swirl Fans are available in both Standard and XL sizes, a standard swirl fan will carry 1 kilo of confetti and XL size fan up to 4 kilos.
We also stock a complete range of confetti suitable for use in our swirl fans in both metallic and paper.
CALL 0800 043 6500 for a free quote or email us HERE
---
Need More Info?
Just Call Or Email Us for a quote:
Sales & Hire: 0800 043 6500
Email: info@forcefx.co.uk