handheld Cryo Gun

Effects
---
Available To Hire & Purchase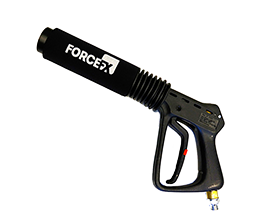 Our CO2 guns are designed by us here in the UK & offers a incredible visual effect by producing an 8m white cryogenic fog plume. The ForceFX CO2 gun is lightweight, and extremely easy to use requiring no external power. This stunning, repeatable effect is perfect for DJ's, dancers and any type of high energy performer.

These are great fun to use & can create an exciting and unexpected effect on stage. Our Co2 guns are popular with both artists and DJ's, and have been used to great effect from Ibiza festivals to local clubs.
ForceFX CO2 Gun

Specifications

Overall length from Handle base (with threaded inlet) to Nozzle tip - 470mm
Overall Height - 200mm
Nozzle Diameter - 50mm
Weight (KG) - 2.7kg
Control - Manual
Consumption - Liquid CO2
Max Distance - 8M
---
---
---
Need More Info?
Just Call Or Email Us for a quote:
Sales & Hire: 0800 043 6500
Email: info@forcefx.co.uk