Confetti & Streamer
Powershots
---
Available To Hire & Purchase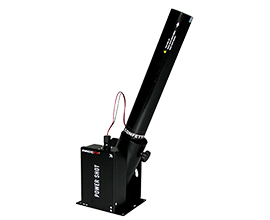 Made by top European manufacturer MAGICFX, the Powershot is a professional electric confetti cannon system designed for stage, show and event use. Designed to fire pre-filled Powershot single use confetti or streamer cartridges with a range of 12m and streamers up to 20m.
Available in complete kits from 2 - 20 Powershot heads our hire kits are simple to use and require no specialist knowledge to deploy. Each Power Shot hire kit comes complete with the Powershot head units, all necessary power and link leads (in lengths to suit your Event), and a two channel Effect Controller with safety key and fire button (as well as cannon safety chains and Truss clamps should you need them).
Powershot hire kits are perfect for all sorts of events, just at home in Theatres and on professional touring shows as they are on your local School Stage, they are the ideal choice.
If you are in a smaller venue or where space is tight, we can supply 40cm cannons with a 5m confetti throw (or 10m with streamers).

Powershot

Specifications

Size (LXWXH) - 13x12x16 cm
Weight (KG) - 1.7kg
Control - 230V on/off or DMX by using a Switch Pack
Consumption & output - Electric Confetti Cannons 40cm: 5m - Electric Confetti Cannons 80cm: 12m - Electric Streamer Cannons 40cm: 10m - Electric Streamer Cannons 80cm: 20m!
Documents & Manuals
---
---
Need More Info?
Just Call Or Email Us for a quote:
Sales & Hire: 0800 043 6500
Email: info@forcefx.co.uk